Here you will find the ultimate collection of pink paint color schemes for you to enjoy. As an interior decorator I know how useful it is to use these amazing paint color palettes as a guide and inspiration to choosing the paint colors for your home. Today we are looking at decorating with the color pink!
Pink Paint Color Schemes: Blossom
"You know petal pinks are bright pick me ups. Now for the news: They can also be surprisingly sophisticated and easy to live with."
Sherwin Williams Imaptiens Petal:
Pair this teacup pretty hue with a classic partner like peacock blue, gray or emerald. This color works very well on walls for little girls bedrooms, pair with soft baby blue for a sweet effect.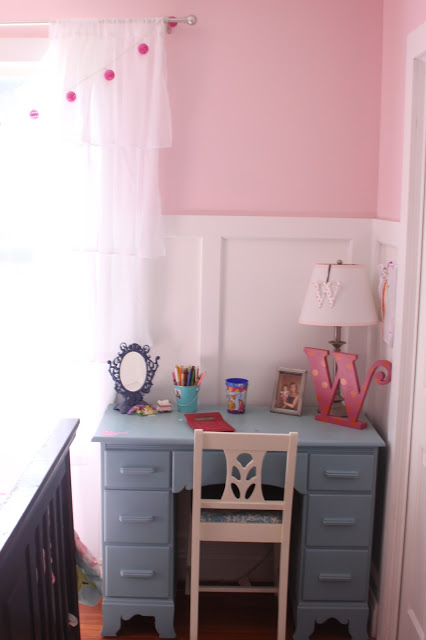 Other colors in this pink paint color scheme include:
Ace Harware: Italian Rose – A red based pink for a funky accent
Glidden: Barley Blush – A rosy shade of pink that flatters faces, best for bathrooms and dining rooms where people want to look their best.
Olympic: Plaster Pink – A pale pin, a subtle color that allows other colors in the room to have the attention
True Value Paint: Cherry Soda – In natural light you can see the orange
Pink Paint Color Scheme: Blush Pinks
Give your rooms an all over glow with these pink paint colors.
Venetian VM42 by Ralph Lauren Paint – An Earthy pink that warms up light wood tones and mossy greens
Mauve Glow WV32016 by Valspar – Great for nooks and cosy spaces
Demure Pink 210C-2 by Behr – pair with chalky creams and browns to stop being pinks like this from being to sweet
Pink Mimosa 32YR 78/106 by Glidden – Polished pink looks great on living room walls when paired with gray
Demure D38-3 by Olympic – tinges of black turns this pink shade into an unexpectied neutral
Pink Paint Color Scheme: Rose Pink
Pink paint color scheme that is romantic but not over the top sweet. Garden roses inspired hues are some of the most livable around.
Soft Muslin by Behr – Barlye be able to tell this is pink, has a flattering glow
Peach Cooler by Benjamin Moore – Accent this creamy pink with a touch of green
Bunny's Nose by Olympic – Use in a room flooded with natural light, this pink has a touch of red that gives it energy
Odessa by Ace Hardware – For a Moroccan look, pair this with dusty blue and golden orange
Adobe Blush by Valspar – A yellow based pink paint color that looks great paired with gray
Blush Paint Guide paint color schemes: Pale Pink Paint Color
Soft, pale blush pinks you will love for your walls Via Becki Owens.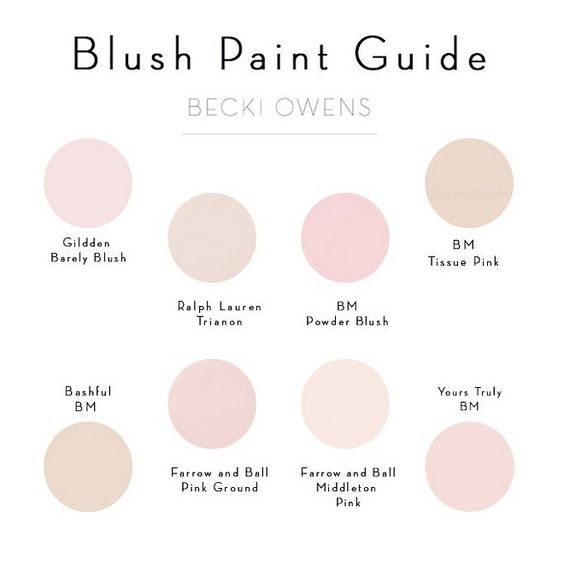 Glidden Barely Blush
Ralph Lauren Trianon
Benjamin Moore Powder Blush
Benjamin Moore Tissue Pink
Benjamin Moore Bashful
Farrow and Ball Pink Ground
Farrow and Ball Middleton Pink
Benjamin Moore Yours Truly