Veal with tuna sauce. a traditional Italian antipasto, makes the perfect light entrée for a summer gathering. The plate is from simple Life Istanbul, and the glassware and napkin are from il Buco Vita.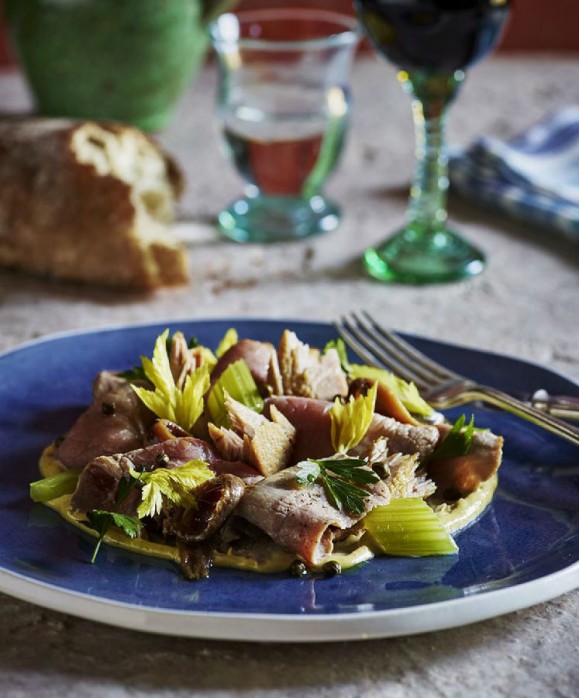 VΙΤΕLLΟ ΤΟΝΝΑΤΟ
Serves 4
2 egg yolks
2 tsp, Dijon mustard
1 7-oz. canorjar of good-quality tuna packed in oil, drained
12–15 salted anchovy fillets in oil 1 clowegarlic.finely chopped 2 Tcapersin brine, plus 1 tsp setaside 2 cups grapeseed oil Juice of 1 lemon or 2T white winevinegar Salt
3 stalks ofcelery, plus leaves from entire bunch
1/2 lb. wealcutlets, approximately 1inch thick Freshly ground black pepper
2 T olive oil
2 T chopped parsley
In a blender, combine the egg yolks, mustard, half the tuna, half the anchovies, garlic, and 2 tablespoons of the capers; puree on medium until just combined but still chunky. With the blender running on low, slowly add the grapeseed oil in a steady stream until the sauce has the consistency of mayonnaise. Add the lemon juice or white wine vinegar and taste for seasoning. Add a pinch of salt or more lemon juice or vinegar, if desired. Transfer to a container and keep refrigerated until ready to serve. Bring 1 quart of water to a boil and season generously with salt. Cut the stalks of celery into 1-inch pieces and add to the boiling water; cook for 1 minute. Prepare a bowl of ice water and, with a slotted spoon, transfer the celery to the ice water for three minutes. Drain the celery and set it aside.
Season the veal with salt and black pepper on both sides. In a medium sauté pan, warm the olive oil over medium heat, then searthe veal for 30 seconds to 1 minute on each side, depending on thickness. Remove the veal from the pan and set aside to cool slightly; thinly slice against the grain.
To serve
Spread the sauce on the bottom of a plate. Fold the veal slices in half and lay them on top of the sauce in a circle, with one piece in the center. Garnish with the remaining tuna, anchovies, and capers. Sprinkle celery leaves and parsley on top.
Optional Toppings: Add fresh color and texture to this dish with peppery radishes. Simply shave the radishes thinly, preferably on a Japanese mandoline, and keep them in coldwater fora few Ininutes so they stay crunchy. A garnish of small, ripe tomatoes can add more color and aburst of sweetness. Irecommend the grape or cherry tomatoes on the vine that are so abundant in late summer-just slice them in half and scatter over the top. Chopped black olives also work well with the briny capers and salty anchovies.