Top 5 Daily inspirations: Living rooms in blue and neutrals
A variety of pillows in stripes, botanical patterns and geometric patterns all featuring a darker shade of blue as their central unifying theme sit above a modern sofa in a latte brown and navy blue. The swirling blue fractal like artwork in blue and white really steal the show in this modern/contemporary living room.
Beautiful combinations of tints and shades of blue for a harmonious monochromatic scheme. Love the use of crochet in the rug, pillow, stool and ottoman. Super high ceilings and the white washed wide wood paneling on the walls give the space a sophisticated/modern edge. The shades of blue and grays melt together beautifully in this environment.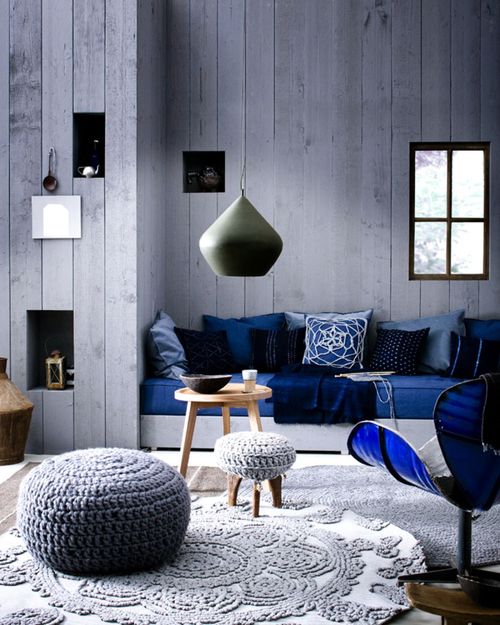 Living space in indigo blue and white. Love the classic structures in the archway behind the sofa and coffee tables, this lends the space a great sense of presence.
Modern space with white painted ceilings, dark grey walls and a gorgeous inky blue velvet sofa!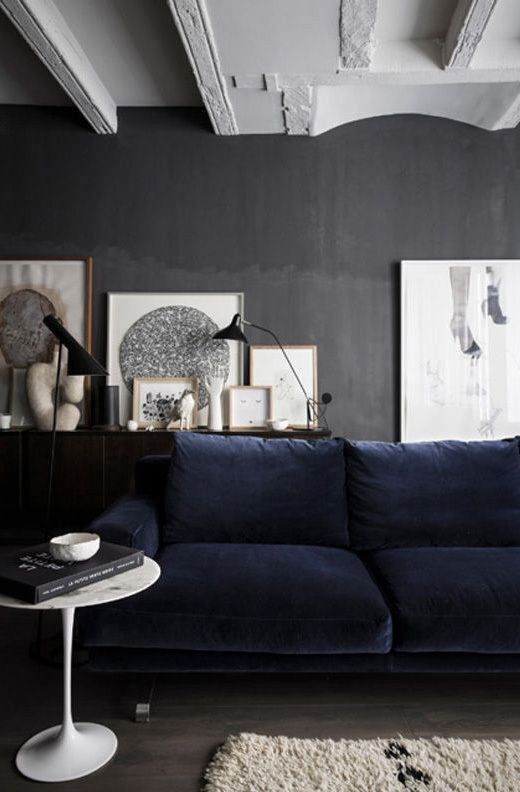 Dark blue walls dominate this living room. Interesting element added by the empty white frame on the wall. A truly eclectic vibe with modern space age circular lamp hanging from the ceiling and the two vintage suitcases by the radiator provide a taste for more to discover.